Attractions in Liptov
Čo robiť na Liptove s deťmi? Ako tráviť čas na Liptove keď prší? Čo podniknúť na Liptove vo dvojici? Na tieto a na mnohé ďalšie otázky odpovedáme v nižšie priložených tipoch. Keďže sa Tatralandia chatky nachádzajú priamo v Tatralandii, ktorá je situovaná prakticky v srdci Liptova, väčšina obľúbených atrakcii Liptova je od nás len na skok.
Samozrejme, medzi našimi návštevníkmi je najobľúbenejšou miestnou atrakciou Tatralandia. Tá poteší veľkým množstvom bazénov, toboganov a rôznych iných atrakcii. Hneď pri Tatralandii sa nachádza aj Kontaktná Zoo, ktorá je populárna hlavne pre deti.
Najbližšími vodnými atrakciami Liptova sú okrem Tatralandie aj Liptovská Mara a aquapark Bešeňová.
Turistika na Liptove sa rok čo rok stáva populárnejšou. Vďačíme za to prekrásnej, stále pritom trochu neopozeranej prírode Liptova. Ak túžite po aktívnej dovolenke na Liptove, iste vás poteší blízkosť Západných Tatier. V prípade že ste na výlete na Liptove s deťmi, odporúčame Bobroveckú dolinu, Roháčske plesá, prípadne vrch Rákoň. Ak túžite po náročnejšej turistike, potešiť vás môžu Kriváň či Baníkovské sedlo. Okrem Západných Tatier je to na skok aj ďalších pohorí : Nízke Tatry (hlavne Demänovská dolina) a Veľká Fatra.
Medzi ďalšie obľúbené atrakcie Liptova patria túra na Veľký Choč a na Sidorovo, kúpanie sa v Šútovskom jazere (cez leto príjemne osviežuje), termálny prameň Kalameny, ale aj skanzen Vlkolínec.
V zime sa TOP atrakciou stáva lyžiarske stredisko Jasná. Na blízku sa nachádzajú aj lyžiarske strediská v Žiari a Ski Opalisko.
tatralandia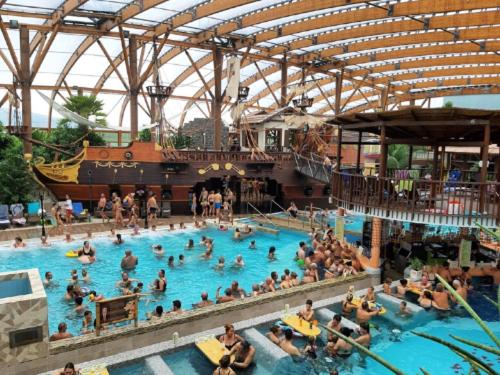 Aquapark Tatralandia is one of the
largest and most popular water parks in Slovakia
. And
our cottages are located directly in its premises
in Tatralandia Holiday Village. In cooperation with the aquapark, we are also preparing
discounted entrance prices
for you, which you will be able to buy through us soon, for more information on purchasing discounted GOPASS tickets,
see our GOPASS subpage
. You will not be really bored in Tatralandia, there are up to
14 pools
(including 10 year-round pools) with salt, thermal and clear water at a temperature of up to 40 ° C. There are also
14 water slides
, the
Hurricane Factory Tatralandia
attraction, the Celtic
wellness and sauna world
and the
Surf Waves Tatralandia
.
Distance from Tatralandia Chatky is only 100 m
Liptovska Mara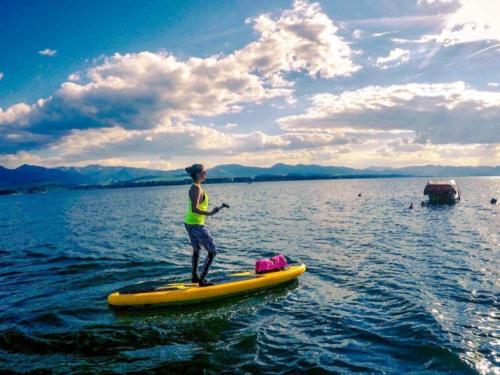 And if you want to enjoy natural swimming during your stay, you can visit
Liptovská Mara
. Water reservoir, which is also referred to as the Slovak Sea :) There is a
beach swimming pool in Liptovský Trnovec
. In the summer season, entry to the swimming pool is charged. In the summer season, there are many other attractions on Liptovská Mare in addition to the swimming pool. You can take a cruise ship - a
cruise ship Maria
. Or you can play sports on the water, you can
rent a kayak, wakeboard, wakesurf, jet ski
or
paddleboard
. And for the adventurous and adrenaline lovers, there is also an
inflatable banana, motor boat, flyboard, pedal boat, aquazorbing, bumper ball
. And don't worry, there is a program for even the little ones -
boating for children
and
jumping attractions with a trampoline
.
Distance from Tatralandia Chatka is only 3 km
Clear Low Tatras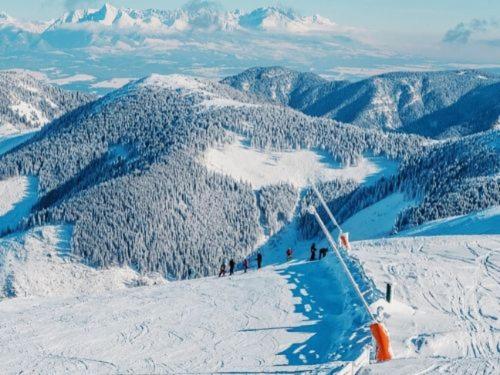 Near us is also the
largest ski resort in Slovakia - Jasná Nízke Tatry
, where you will be taken by a free ski bus (up to several times a day) directly from our chalets in Tatralandia in the ski season. That is why we recommend accommodation in Jasná a little less than accommodation with us in Tatralandia. You can comfortably get from the ski area with a free ski bus and in the evening you can just relax in the Tatralandia area. Jasná Nízke Tatry offers quality skiing on the
north and south side of Chopok
. There are up to
49 km of slopes of
varying difficulty,
modern and heated cable cars
, a
modern snowmaking system
and many
freeride zones
in the Jásná snow park.
Jasná is a popular resort even in summer . They will come here for their lovers of tourism, there is possible tourism, for example. to Ďumbier, Chopok, Tri vody, Bielu puť, Demänovské sedlo or the educational trail of Demänovská dolina. For children, there is a large trampoline available in the summer, mountain bikes , bicycles and e-bikes can be rented , and of course there are also cable cars in everyday traffic.
In cooperation with the Jasná resort, we are also preparing
discounted ski pass prices
for you, which you will be able to buy through us for the winter season,
follow our GOPASS discount subpage
Distance from Tatralandia Chatka is 19 km
Ilusia Gallery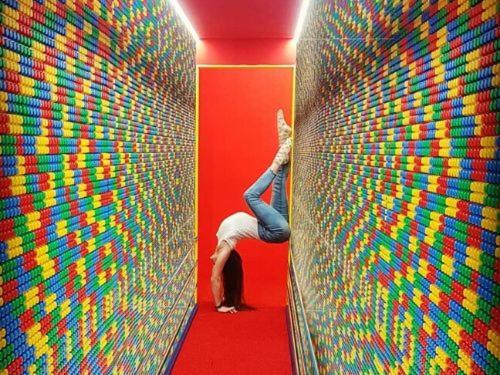 We also have a tip for you on
what to do in Liptov when it rains
. You can visit the
gallery full of optical illusions -
Ilusia Gallery in Liptovský Mikuláš. We recommend that you
book your entrance fee online in advance
, especially in bad weather, as the number of daily tickets is limited. In the gallery you will not believe even with your own eyes :) you can there for example.
read a newspaper on top of a skyscraper
,
make a phone call at the bottom of the pool
,
catch an elephant using 3D paintings
. It's fun for children, but also for adults.
Distance from Tatralandia Chatka is 5 km
bešeňová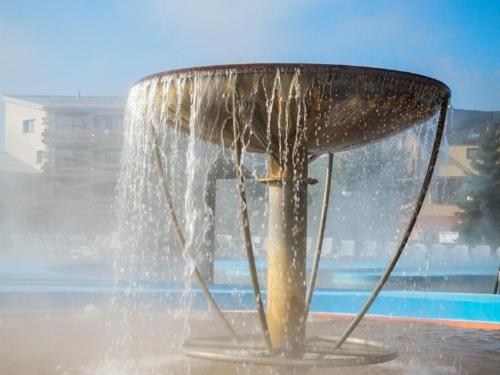 Bešeňová Water Park is also one of the most visited aqua parks in Slovakia. It is popular mainly for its
thermal waters - geothermal springs
, which can have up to 60.5 ° C. Bešeň thermal springs
have a positive effect on the locomotor and respiratory systems
,
urological problems
and generally have a positive effect on the
human psyche
. Bešeňová has
4 thermal pools
and
4 indoor pools
,
7 indoor water slides
and
6 outdoor summer water slides
. And in addition to fun, you will also find quality relaxation here. There is a
Harmony wellness & spa complex
- 50 steam, water and massage baths, treatments and saunas. And every day a rich program of
sauna rituals
. Through us you can always buy the
best tickets to Aquapark Bešeňová
,
more info on our subpage GOPASS discounts
Distance from Tatralandia Chatka is 18 km
If you have a tip for a trip around Liptov or you are the owner of an interesting attraction around Liptov, contact us and we can publish an offer for our guests. Thank you, the team Tatralandia Chaty 109 and 110